Charming hotel in Spoleto in the Umbrian countryside
The Hotel Restaurant La Macchia, located in Località Licina 11 in Spoleto in the province of Perugia, is an oasis of peace and tranquility for nature lovers who want to relax in a stimulating environment full of tradition like that of the Umbrian city. The latter, with its 38,000 inhabitants, is one of the most important artistic and cultural centres of all of Umbria, thanks to a glorious past that has left as a legacy, splendid palaces, towers, bridges, churches and unique theatres as well as numerous museums, rich in history. Beautiful Spoleto, city of the famous TV series Don Matteo, is waiting for you to offer you a unique experience and … some blisters on your feet due to the irregular soil of the historic centre, which rises on the slopes of Sant'Elia.
Picturesque hotel in a place symbol of culture and tradition
Staying in the Spoleto hotel rooms in Località Licina 11 allows each client to enrich their knowledge by visiting a unique city. The oldest part of this incredible place, is embellished by the Town Hall dating back to 1200 and used today as the Municipal Picture Gallery.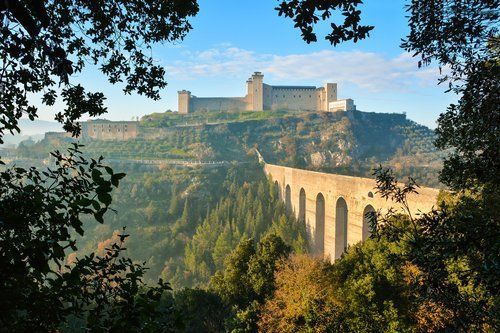 Continuing, you find yourself in front of the spectacular staircase that leads directly to Piazza del Duomo and the annexed Cathedral of Santa Maria Assunta. The cathedral of Spoleto, built in 1067 on the remains of an ancestral question, contains some of the most precious and evocative frescoes and works of art by Pinturicchio and Filippo Lippi.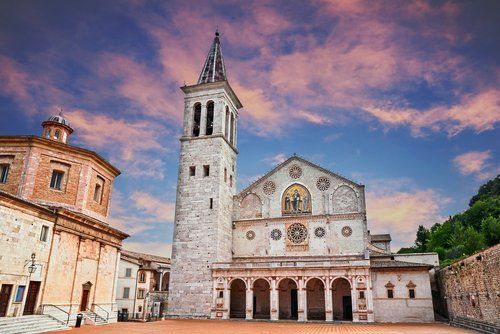 Walking through the streets of Spoleto there are several historic buildings able to capture the attention of passers-by: from the Basilica of San Salvatore, recognized as a UNESCO World Heritage Site, to the Sant'Ansano Church and Cripta di Sant'Isacco, from the San Domenico and San Ponziano churches and the Church of San Pietro extra moenia, located near the southern entrance of Spoleto.
Unforgettable stays in the town of the Rocca Albornoziana
The hotel in Località Licina 11 in Spoleto is the ideal place for all travellers keen on history and tradition who want to relax in total relaxation before going to visit the city, a symbol of Umbrian culture as well as Italian. One of the most famous attractions is undoubtedly the Rocca Albornoziana situated on the top of the Sant'Elia hill, which, overlooking all of Spoleto with majesty, offers visitors a truly breathtaking panorama.